Submarket 1
https://www.regionalhousingsolutions.org/submarket/1
Higher density urban, high foreclosure and vacancy, low income
Submarket 1 consists primarily of urban areas concentrated on the south and west sides of the City of Chicago, but also includes parts of Waukegan, Joliet, and south suburban Cook County. These communities are medium density with many 2–4 flats built before 1940. High rates of vacancy, foreclosures, and distressed sales in Submarket 1 may undercut the quality of existing homes. Significant population loss in Submarket 1 communities is likely both a cause and an effect of local levels of property distress. Nonetheless, Submarket 1 has good access to the regional transportation network, which helps keep transportation costs low.
Despite low housing values and costs, declining incomes among Submarket 1 households have led to increased rates of cost burden. Educational attainment levels are low, and households in this submarket are lower income with the largest income declines of any of the submarkets. The submarket has experienced high unemployment, which has increased over time. Communities in this submarket are also aging, now with a greater share of older adults and fewer children under 15.
Key stats
High and increasing levels of cost burden
Low transportation costs
Relatively high-density urban and suburban submarket with an older housing stock
High share of renters, highest share of subsidized households
A high distress area with higher levels of foreclosure and vacancy.
Low levels of mortgage investment, but high levels of cash sales.
Growing share of seniors
Geography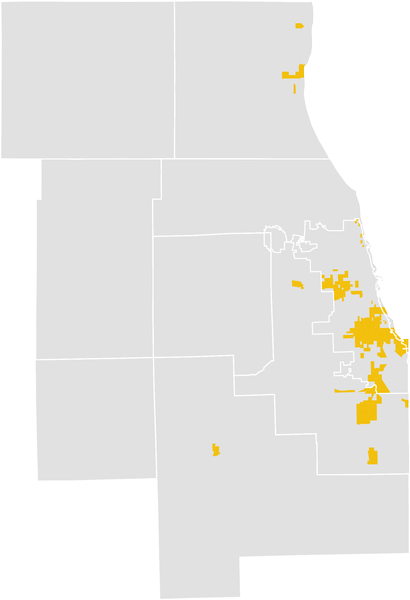 Chicago and the region
Entire region

2% of the entire region is in Submarket 1

Chicago

21% of Chicago is in Submarket 1
Chicago communities
How much of each chicago community is in Submarket 1.
Municipalities
Counties
Issues + strategies
Quantitative analysis and many interviews with housing experts from across the region helped identify issues facing the region's housing markets, as well as potential solutions. Although many more housing and non-housing issues affect this submarket, the housing issues and strategies identified below represent the most significant challenges and most promising solutions in this submarket. The outlined strategies feature proven projects, programs, or other efforts undertaken in communities across the region to address similar challenges or capitalize on similar opportunities.
---
Code issues
Striking a balance between code enforcement to protect health and safety and the reality of existing building conditions can be challenging. Many properties in Submarket 1 are more than 75 years old and not in compliance with regulations that ensure the health and safety of residents, including children who may be exposed to lead paint. Finding the right balance for addressing code issues is key for local leaders in these communities. Too aggressive enforcement can lead to vacancy and reduce neighborhood stability because building owners cannot afford to make all required repairs. Too lenient enforcement can lead to households living in unsafe or unsanitary conditions. The results of either approach compound over time and can serve as a deterrent to future permitted, market-driven rehabilitation.
Foreclosure
Although filings have slowed down, foreclosures are still more common in Submarket 1 communities than elsewhere in the region. In Illinois, foreclosure is a long process, generally taking many months—if not years—from the initial filing to the final disposition of the foreclosed property. In many instances, properties stand empty for long periods after residents are evicted but before the foreclosure is resolved. Long-term vacancy accelerates physical deterioration as property security and maintenance decline. Blighted foreclosures threaten community safety and quality of life by triggering declines in nearby property values and increased incidences of arson, vandalism, and other crimes.
Growing senior population
As local homeowners age, there is a need for appropriate senior housing as well as a pipeline of purchasers for the family homes they are leaving behind. Older adults in Submarket 1 may have trouble accessing reasonably priced housing appropriate for their changing needs, like accommodations for limited mobility. Retrofitting resources along with additional local housing options for seniors are critical to keeping these long-tenured residents in the community. At the same time, developing a pipeline of new owners to take over vacated housing is also important, creating a potential matchmaking role for elected officials, nonprofits, and other institutional actors in Submarket 1.
Legacy of disinvestment
Long-term flight of residents and capital from communities can create barriers to reinvestment. Many communities in Submarket 1 suffer from the long-term loss of businesses and residents, resulting in local populations considerably lower than peak levels reached in the 20th century. Over time, this supply-demand mismatch—exacerbated by related issues like high rates of foreclosure and the historical legacy of racially discriminatory real estate practices—contributed to widespread vacancy and disinvestment in Submarket 1. Prolonged disinvestment drives property abandonment, resulting in demolition in many cases. While demolition may represent an immediate benefit to surrounding residents, high rates of demolition can also create new challenges by disrupting the fabric of the neighborhood.
Potential for rapid neighborhood change
Submarket 1 communities closest to the Chicago central business district with access to rail transit are most vulnerable to rapid redevelopment. Communities in Submarket 1 are primarily located within the City of Chicago, with relatively high levels of access to transportation options. As developer interest in the Chicago city center continues unabated, there is some possibility that outside investors will seek to gain ownership of a large share of properties in some Submarket 1 areas for higher end redevelopment. Developer interest in these communities will likely be highest for those closest to the central business district with access to CTA rail transit.
Promoting market feasible development
To overcome multiple challenges in Submarket 1, leaders should use realistic, market-based assessments of private market development potential. While Submarket 1 communities struggle with disinvestment and lack of private market interest, there are still interim steps that local elected officials, non-profits, and institutions can take to attract and shape development in the community. However, these steps require strategies based in market realities, and may include encouraging the development of new affordable housing resources in the community.
Rehabilitation challenges
In certain communities, the cost of renovation may exceed the value of the home or available rehab resources. Some properties in Submarket 1 are in very poor physical condition, making it difficult to renovate them with limited public sector resources, and unfeasible with private sector resources. Banks struggle to underwrite renovation loans when the cost to bring a property up to a reasonable level of repair exceeds the potential sale price for the renovated home. For this reason, low values at sale for homes across Submarket 1 constrain the potential of rehabilitation for particular homes.
Reputation
Negative perceptions about community conditions can constrain redevelopment potential. Communities in Submarket 1 suffer from negative reputation issues, whether real or perceived, with the quality of the built environment, performance of local schools, proximity to amenities, and public safety.
Sign up to receive updates