Submarket 2
https://www.regionalhousingsolutions.org/submarket/2
Higher density urban and suburban, large households, high foreclosure/moderate vacancy, low/moderate income
Submarket 2 consists of urban and suburban homes built before 1940 in parts of Chicago, Aurora, Elgin, Joliet, and Waukegan. Declining incomes likely influence the high and increasing levels of cost burden. Low transportation costs moderate concerns about high levels of cost burden. Many households rent, but comparatively fewer live in subsidized units than in submarket 1. The submarket has higher levels of foreclosure activity, but moderate levels of vacancy. Mortgage investment is low but cash sales are high, which when combined with the high foreclosure rates and low vacancy rates, points to the transitioning of homes from owners to renters. The larger households in submarket 2 frequently have children under the age of 15.
Key stats
Relatively high-density urban and suburban submarket with an older housing stock.
Low transportation costs.
Higher levels of foreclosure activity, but moderate levels of vacancy.
Low levels of mortgage investment, but high levels of cash sales.
High and increasing levels of cost burden, largely due to declining incomes.
Geography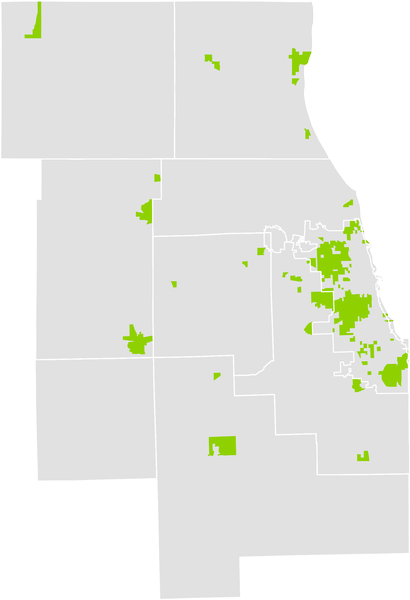 Chicago and the region
Entire region

3% of the entire region is in Submarket 2

Chicago

28% of Chicago is in Submarket 2
Chicago communities
Municipalities
Counties
How much of each county is in Submarket 2.
Issues + strategies
Quantitative analysis and many interviews with housing experts from across the region helped identify issues facing the region's housing markets, as well as potential solutions. Although many more housing and non-housing issues affect this submarket, the housing issues and strategies identified below represent the most significant challenges and most promising solutions in this submarket. The outlined strategies feature proven projects, programs, or other efforts undertaken in communities across the region to address similar challenges or capitalize on similar opportunities.
---
Code issues
Finding a balance between too aggressive and too lenient code enforcement can be difficult. Development pressures in some parts of submarket 2 allow the market to either rehabilitate or replace older units with code issues. In other parts of submarket 2, where the market is comparatively weaker, communities struggle to find the right balance in addressing code issues. Too aggressive enforcement can lead to vacancy and reduced neighborhood stability because building owners cannot afford to make all the repairs. Too lenient enforcement can lead to households living in unsafe or unsanitary homes. Burdensome point of sale requirements may deter new investment in the community, and challenges with staff capacity can result in long waiting periods to complete required inspections. The results of either approach compound over time and can serve as a deterrent to future market-driven rehabilitation.
Foreclosure
Communities struggle to determine how best to deal with foreclosures. Stakeholders raised concerns about the ongoing impact of foreclosures in submarket 2. The lingering effects depend on the proximity to other markets. Near stronger submarkets, like 3 and 7, foreclosures can be addressed more easily, with units often reoccupied, whether by owners or renters. In other areas, communities struggle to determine how best to deal with foreclosures. If not properly addressed, foreclosures can begin a neighborhood cycle of disinvestment. Prolonged disinvestment drives property abandonment, resulting in demolition in many cases. While demolition may represent an immediate benefit to surrounding residents, high rates of demolition can also create new challenges by disrupting the fabric of the built environment.
Potential for rapid neighborhood change
Proximity of submarket 2 to submarkets 3 and 7 increase the potential for rapid change. Submarket 2 often abuts higher income or rapidly developing areas (i.e. submarkets 3 or 7). Market specialists think that the pressure on submarket 2 to change will not abate since these areas are often close-in with good job and transit access and a form attractive to many households.
Prioritization
How much a community focuses on housing issues in submarket 2 depends on context. Some communities focus on the housing issues in submarket 2 more than others. The emphasis likely depends on the mix of submarkets in a local community along with capacity. Municipalities with more vibrant housing markets or more distressed areas may not choose to focus on housing issues in this submarket, viewing it as stable.
Rehabilitation challenges
Rehab programs may be underutilized. In response to deferred maintenance and code issues, many organizations operate housing rehabilitation programs. Yet, these programs are not always heavily used. The cost of bringing a unit up to code may exceed available funding, limiting the utility of the program to local residents. On the other hand, in some areas of Submarket 2, market pressures may make rehab more financially feasible.
Tenure changes
Units may be changing from owner-occupied to renter-occupied. In some ways, the change in tenure is beneficial: the market is finding ways to ensure that foreclosed units do not remain vacant. Yet, the change in tenure can have many impacts. More rental units may challenge the ability of communities to effectively monitor and manage the local rental stock due to the rapid increase in the number of rental units. Such changes may also signal financing challenges, leaving potential owners as renters.
Sign up to receive updates