Submarket 4
https://www.regionalhousingsolutions.org/submarket/4
Suburban post-war housing stock, moderate- and middle-income, lower cost stock
Submarket 4 is comprised of low-density neighborhoods built between World War II and 1959. Housing is mostly owner-occupied, and very little housing is subsidized for low- and moderate-income families. Despite some foreclosures and distressed sales, the private market continues to function, with moderate levels of mortgage lending. The middle-income households that live in these areas struggle with increasing cost burden, due, in part, to higher transportation costs and declining incomes. The submarket has a moderate number of children and a growing older population (60+).
Key stats
Largely suburban cluster with some lower density town centers and single-family homes built between 1940–1959
Moderate cost area that has nonetheless seen increases in cost burden due to declining incomes
Moderate transportation costs
Large share of owner occupants, low levels of subsidized housing
Moderate levels of foreclosures, and high/moderate levels of distressed sales
Primarily middle- and moderate-income households
Geography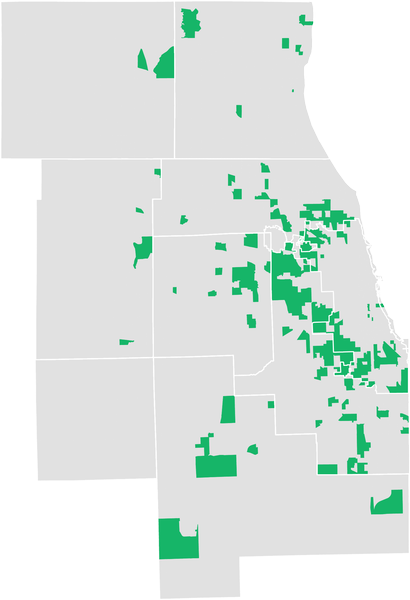 Chicago and the region
Entire region

8% of the entire region is in Submarket 4

Chicago

23% of Chicago is in Submarket 4
Chicago communities
How much of each chicago community is in Submarket 4.
Municipalities
Counties
How much of each county is in Submarket 4.
Issues + strategies
Quantitative analysis and many interviews with housing experts from across the region helped identify issues facing the region's housing markets, as well as potential solutions. Although many more housing and non-housing issues affect this submarket, the housing issues and strategies identified below represent the most significant challenges and most promising solutions in this submarket. The outlined strategies feature proven projects, programs, or other efforts undertaken in communities across the region to address similar challenges or capitalize on similar opportunities.
---
"Setting the table" for development
Communities should take steps to prepare for and attract private market real estate investment. Although communities in Submarket 4 have older housing stock and moderate-value homes, they still have many assets on which to build. However, Submarket 4 communities may not be prepared to leverage these assets because, in some cases, they have not taken strategic steps such as addressing troubled properties, improving streetscapes, updating development regulations, or assessing market conditions to prepare for development.
Form matches current demand
These walkable, higher density communities with access to rail transit may be attractive to current consumers. Due to their age, many Submarket 4 communities are close to the City of Chicago, or within older subregional job centers like Aurora or Waukegan, with strong access to public transit resources. Many of these older communities also have architecturally notable smaller homes on smaller lots, which may be an asset considering changing consumer preferences. Combined with walkable, moderate-density town centers, these assets have the potential to attract investment, especially as family formation continues among millennials.
Moderate cost but rising levels of cost burden
Although housing costs are relatively low, community members may still struggle with housing payments. Many residents benefit from the moderate costs associated with living in Submarket 4 communities. However, due to stagnant or declining incomes, some owners and renters are now paying more than they can afford on rent or mortgage and utilities. As the share of households struggling with housing costs rise, it becomes less likely that homeowners will have resources to maintain or improve their homes, and some residents may be vulnerable to homelessness.
Rehabilitation challenges
The age and condition of homes may be a barrier to redevelopment, despite other advantages. Moderate home values in Submarket 4 have an effect on resources available to renovate properties both for existing homeowners and potential in-movers. If the value of a renovated home at sale is lower than the investment required to perform desired renovations, bank capital for rehabilitation may be limited. Public sector partners can help bridge this gap with low-cost loans and grants for rehabilitation. However, even where available, these programs are not always widely used when the cost of renovations greatly exceeds the amount of individual assistance available.
Sign up to receive updates