Submarket 6
https://www.regionalhousingsolutions.org/submarket/6
High cost suburban housing stock, low density, high income, aging
Submarket 6 is the most affluent submarket in the region. Despite high home prices and rents, housing cost burden is low due to high incomes. This submarket shares the trait of high transportation costs with other suburban submarkets. The housing stock can be characterized as mostly single-family homes with a mix of both older and newer housing. This largely owner-occupied submarket includes low levels of subsidized housing. Low foreclosure and vacancy levels and a high mortgage activity level have generated a strong housing market. The submarket is composed of mostly highly educated households, with a high share of 2 to 4 person households, moderate levels of children, and the highest increase in people age 60 and over.
Key stats
Expensive stock, but low cost burden due to high incomes
Largely suburban, low density cluster with mostly single-family housing
Mostly owner occupied, low levels of subsidized housing
Low vacancy with higher levels of mortgage investment, and higher levels of recent housing turnover
Higher income, highly educated area
High and growing share of 60+ households, moderate share of children
Geography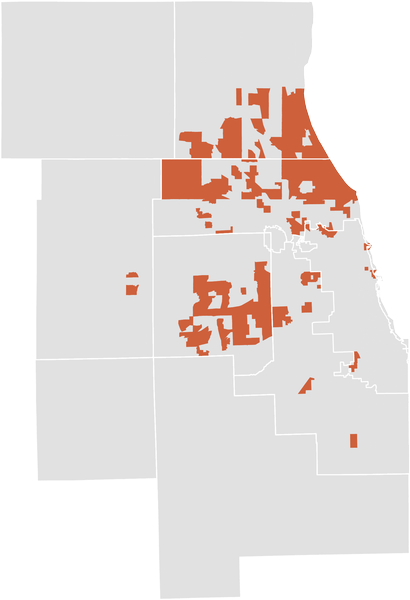 Chicago and the region
Entire region

8% of the entire region is in Submarket 6

Chicago

3% of Chicago is in Submarket 6
Chicago communities
Municipalities
How much of each municipality is in Submarket 6.
Counties
How much of each county is in Submarket 6.
Issues + strategies
Quantitative analysis and many interviews with housing experts from across the region helped identify issues facing the region's housing markets, as well as potential solutions. Although many more housing and non-housing issues affect this submarket, the housing issues and strategies identified below represent the most significant challenges and most promising solutions in this submarket. The outlined strategies feature proven projects, programs, or other efforts undertaken in communities across the region to address similar challenges or capitalize on similar opportunities.
---
Community resistance
Community resistance to change often stymies new housing options. Local opposition to new housing options beyond the traditional large single-family home is strong. Submarket 6 communities and can make it difficult to attract a diversity of housing options to the area. A few mentioned the value of strong political leadership in setting the tone for a desire of balanced housing types and acceptance of people from across the income spectrum.
Economic development implications
The lack of housing options and low density in Submarket 6 may limit economic development opportunities. Municipalities goals' around increasing retail options and fostering a vibrant business community in downtown areas may be limited by the lack of density in the submarket. Economic development may be further limited when area employers find it hard to attract and retain workers who demand different housing options beyond the traditional large, single-family home.
Growing senior population
Older adults will demand new housing options and readily available access to transportation and services. Submarket 6 communities will need to think creatively about how to address the needs of a growing senior population given that this area has the highest increase in residents over the age of 60. The lack of housing stock diversity may pose problems for seniors who wish to downsize and stay in the community. Communities will also need to consider how to address the needs of seniors who can no longer drive and will need access to new transportation options. Seniors are more likely to desire walkable neighborhoods that provide easy access to amenities and services.
Need for more diverse housing options
Attracting new population segments and serving the needs of existing residents may prove challenging given the limited housing stock diversity in the submarket. High housing values and incomes in Submarket 6 have resulted in stability in the housing market. However, municipalities in this Submarket may need to consider how to accommodate changing demand for housing options when trying to attract new segments of the population including young families and millennials, seniors who want to stay in the community, and local employers who want their employees to live near work. Municipalities will need to consider how to accommodate demand for a variety of housing options from these population groups, including smaller single-family homes, more compact development and multifamily housing. Interviewees also expressed concerns about Submarket 6 communities' ability to accommodate the needs of segments of the local workforce that may be housing cost burdened. Local opposition to new housing options, as well as more attainable housing from a cost perspective, is often strong and will present challenges to municipal officials. In addition, competition for, and cost of, land often make development of new housing options all the more challenging in Submarket 6.
Sign up to receive updates