Submarket 5
https://www.regionalhousingsolutions.org/submarket/5
Suburban 1960-79 housing stock, moderate but declining incomes, lower cost stock
Submarket 5 is a predominantly suburban cluster with many similarities to Submarket 4, except that its housing stock is less dense and slightly newer (built between 1960 and 1979). This submarket has seen fairly substantial increases in housing cost burden, due to considerable declines in income and high transportation costs. Despite being largely owner occupied, there are high levels of renters and subsidized housing relative to other suburban submarkets. The submarket's moderate levels of foreclosure activity and moderate to high levels of distressed and cash sales illustrate weak investment and market conditions. Submarket 5 is the only submarket with declining home prices. In regards to demographic and socioeconomic characteristics, this submarket primarily consists of moderate income households with lower levels of educational attainment. It can be characterized as a family area with a moderate share of children.
Key stats
Characterized as a family area with moderate incomes
Lower density suburban area
Substantial increases in cost burden, largely due to declining incomes and high transportation costs
High levels of renters and subsidized housing relative to other suburban markets
Declining home values
Moderate to high levels of distressed and cash sales
Geography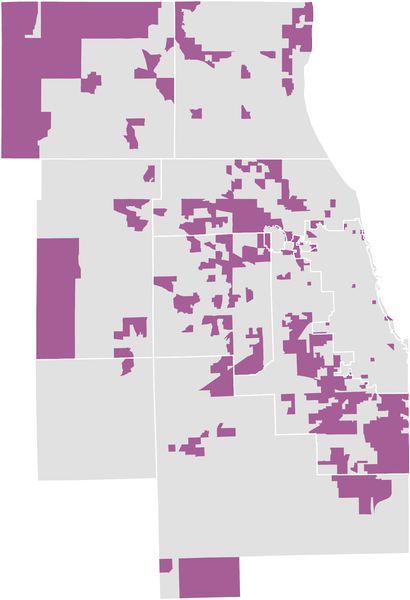 Chicago and the region
Entire region

24% of the entire region is in Submarket 5

Chicago

5% of Chicago is in Submarket 5
Chicago communities
How much of each chicago community is in Submarket 5.
Municipalities
Counties
How much of each county is in Submarket 5.
Issues + strategies
Quantitative analysis and many interviews with housing experts from across the region helped identify issues facing the region's housing markets, as well as potential solutions. Although many more housing and non-housing issues affect this submarket, the housing issues and strategies identified below represent the most significant challenges and most promising solutions in this submarket. The outlined strategies feature proven projects, programs, or other efforts undertaken in communities across the region to address similar challenges or capitalize on similar opportunities.
---
Attracting investment
Communities will need to develop creative strategies to attract additional investment and development. Incentivizing infill can be difficult in mostly built-out areas. Many financial institutions do not provide mortgage products for homes at lower price points, limiting the ability to attract new families into some neighborhoods. Rehab may be needed in some areas, but homeowners may not be able to tap into equity loans because of poor market conditions. High property tax rates in some communities prohibit investment and limit affordability.
Code issues
Finding a balance between too aggressive and too lenient code enforcement can be difficult. In some parts of Submarket 5, where the market is weaker, communities struggle to find the right balance in addressing code issues. Too aggressive enforcement can lead to vacancy and reduced neighborhood stability because building owners cannot afford to make all the repairs. Burdensome point of sale requirements may deter new investment in the community, and challenges with staff capacity can often result in long waiting periods to complete required inspections. On the other hand, too lenient enforcement can lead to deteriorating property conditions and households living in unsafe or unsanitary homes. The results of either approach compound over time and can serve as a deterrent to future market-driven rehabilitation.
Proximity
Communities may have an opportunity to build off of nearby assets. Submarket 5 spans a wide geography across the region, and in many areas there is bordering proximity to assets such as strong school districts and transit lines. Communities within submarket 5 should closely evaluate the relationship of their submarket to other submarkets and assets to take advantage of potential opportunities to attract investment.
Rehabilitation challenges
Rehab programs may be underutilized. In response to deferred maintenance and code issues, many communities operate housing rehabilitation programs. These programs are not always heavily used, in part, because the cost of bringing the house up to code exceeds the funding available.
Weak market demand
Declining home values put homeowners at risk. Homeowners in Submarket 5 may be particularly challenged due to declining housing values, which puts residents in this submarket the most at risk of having underwater mortgages.
Sign up to receive updates